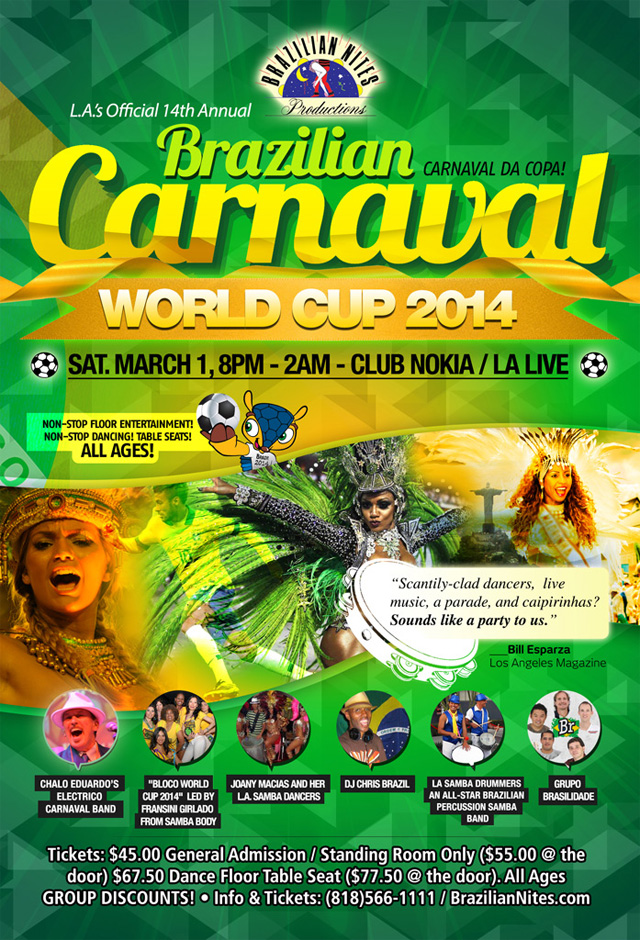 L.A.'s Official 14th Annual "BRAZILIAN CARNAVAL: WORLD CUP 2014"
The longest running Brazilian Carnaval celebration on the West Coast with All-Star Brazilian bands&non-stop Carnaval music & dancing
at Club Nokia/LA Live on Saturday, March 1, 2014 • 8:00 p.m. – 2:00 a.m.
"Scantily-clad dancers, live music, a parade, and caipirinhas? Sounds like a party to us." – Jessica Gelt, Los Angeles Times
LOS ANGELES – Brazilian Nites Productions, presenters of the best Brazilian musical talent since 1989, proudly returns to Club Nokia at L.A. Live for the 14th annual Brazilian Carnaval: World Cup 2014,(Carnaval da Copa Mundial) on March 1, 2014. This special Carnaval party is themed after the 2014 FIFA World Cup in Brazil from June 12 through July 15th and takes place on the exact same day as the first day of Carnaval celebrations in Brazil & around the world.
Carnaval, the worldwide annual celebration, is the most famous and anticipated holiday in Brazil to let loose and dance the night away. The country stops completely for nearly a week and festivities are held day and night, mainly in coastal cities like Rio de Janeiro and Salvador, Bahia. L.A.'s official, annual party tradition – Brazilian Carnaval –is the closest you can get to the excitement and rhythms of Brazil in Los Angeles.
Brazilian Nites once again brings the true party spirit of Brazil to Angelenos with all-star bands of highly acclaimed international musicians, one of L.A.'s top DJs spinning Brazilian dance hits, the energy of elite samba drummers, authentic Brazilian food and drinks and of course, the titillating and elaborately costumed, world-class Samba Dancers.This electrifying annual celebration of spectacular sights and sounds also offers guests more table seating around the dance floor and World Cup themed entertainmentand costumes. Audience costumes are encouraged!
Brazilian Carnaval: World Cup 2014 includes music from Chalo Eduardo'sElectricoCarnaval Band, blending world music, rock and Carnaval music from Bahia to Rio with sizzling hot rhythms and soaring guitar melodies, to create a provocative new mixture of Rock n Roll and samba that is electrifying. This All-Star band is curated by Eduardo (who performed with Sergio Mendes, Santana, Mickey Hart, Ricky Martin) and features top notch musicians playing Carnaval hits all night long.
Performing at Carnaval for the first time is the band Brasilidade. The band has been performing some of the best samba and pagode (a popular musical style from Rio) across the US for more than 10 years and is made up of accomplished, international artists from Rio de Janeiro, Sao Paulo, America and the Philippines.
The Samba is to Brazilians an unencumbered way to dance into a euphoric, ecstatic state. The audience will be invited to surrender to samba beats, Capoeira, and participatory Carnaval Parade dances! A parade of energetic and ornately costumed samba dancers will be led by director and choreographer Joany Macias and her L.A. Samba Dancers. Per forming elaborate and lightning-fast steps, these dancers exhibit samba culture and elegance via athletic and energetic samba dance skills. Macias' also leds the LA Samba Drummers an all-star Brazilian percussion samba band dedicated to maintaining authentic Brazilian samba culture.
Brazil is known for its one of a kind style of soccer, known as "samba-style." This extraordinary technique is characterized by skillful and free-flowing moves, executed with a flamboyance, speed and creativity in footwork that resembles the samba dance. The music of Brasilidade and The ElectricoCarnaval Band and the energizing steps of the LA Samba Dancers work to reflect the spirit of Brazilian soccer culture during this special year of the World Cup.
Carnaval also features sessions of en masse dance floor choreography and blocos choreographed by Fransini Giraldo from SambaBody, Brazilian arts and crafts, Havaianas, and giveaway souvenirs of Mardi Gras beads, tambourines and shakers, courtesy of our sponsor Remo Percussion Instruments.
DJ Chris Brazil will spin additional Brazilian dance music between sets.The video visual environment featuring Brazilian sites and culture by Leonardo Bondani (performed with Moby, Deep Forest, Lila Downs, Mexican Institute of Sound) will also include a Rio Carnaval simulcast.
Brazilian Carnaval World Cup 2014 also features a menu of delicious, authentic Brazilian culinary creations from Picabu. The National cocktail of Brazil – the Caipirinha – will also be available for purchase. Caipirinhas are made with Brazil's most common distilled alcoholic beverage Cachaça, mixed with sugar and lime and poured over ice. This light and refreshing cocktail blends perfectly with the heat and non-stop energy of Carnaval.
The largest and most extravagant Carnaval on the West Coast, Brazilian Nites'Carnaval has consistently sold out, drawing a crowd for the past 13 years. This music and dance spectacle is an authentic demonstration of Carnaval dance, costuming, parading, live Brazilian dance music, drink and food. Patricia Leao, Producer from Brazilian Nites Productions, have brought L.A. the best of Brazilian talent since 1989. Brazilian Nites partners with Painted Turtle, a non-profit charity that provides an innovative camp and family care center for children with life threatening illnesses, in presenting Brazilian Carnaval: World Cup 2014.
The 14th Annual Brazilian Carnaval: World Cup 2014 is sponsored by KPFK 90.7 FM, REMO, Live Out Loud L.A., Fusicology, Soyombo Vodka, and LatinoLA.com.
The Club Nokia Brazilian Carnaval: World Cup 2014 is for all ages.Presale tickets are: $45.00 general admission / standing room only ($55.00 @ the door)& $67.50 preferred seating ($77.50 @ the door). Purchase General Admission and Preferred Seating tickets by calling (818) 566-1111, visit http://www.BrazilianNites.com.
Club Nokia is located at 800 West Olympic Blvd., Los Angeles, CA 90015. Parking on site available for a fee.